AeroBed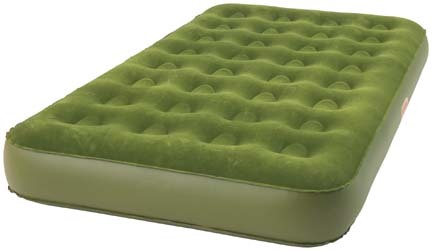 AeroBed is a manufacturer of indoor and outdoor Adventure Inflatable Mattresses
. Here, we talk about the features of the Pakmat Airbed model. Pakmat is the air mattress intended for camping, backpacking and outdoor adventure purposes.
The many features of the AeroBed Pakmat include portability, comfort and efficiency. The Pakmat weighs only 5lbs. For a reasonable price of almost $99, the Pakmat Airbed
is easily inflated. Its own handheld pump also serves as its storage case. When inflated, the actual dimensions of the AeroBed Pakmat are of 78x25x5 in. This makes for a comfortable night's sleep when outdoors. The mattress is also durable and because of its light weight, easily portable.

Speaking of outdoors, it is worth noting that the AeroBed Pakmat mattress is environment friendly. Made of  polyester material that is a safer alternative for the environment. Yet, most reviews claim the AeroBed Pakmat has exceptional comfort sleep and performance.
Besides its portability and affordable price, the AeroBed Pakmat has more great features to consider. Because of its hand pump, no batteries or external power source is required to inflate or deflate the mattress. The efficiency of the handheld pump allows the AeroBed Pakmat to inflate in about a minute. It also offers itself as a carrying case that comes in the form of a light compact cylinder.
Bed is designed to fit different body shapes and weights. Comfort and support is certain with Pakmat. In fact, the supported weight is up to 300 lbs. And at a 5" height, the inflated AeroBed will definitely provide you with the comfort you need. Lastly, remember the full one year warranty on the air bed and pump.
So, if you are considering a lasting air bed, that is easy to use, pack and carry, look no further. It is the Pakmat Airbed by AeroBed.
AeroBed
Coleman AeroBed 20" Air Mattress with Ottoman
Don't keep it to yourself, Share if you Like