Backpacking boots, what are they? They are shoes designed specifically for long walking over uneven trails. Because of the long walks when backpacking and the added weight of your pack on your back, your heel needs proper support.
Why you need them? Well if you think a good night sleep is enough to sustain you through long multi days of backpacking, you are wrong. Your feet take all the pressure and need support just as well as your back. Backpacking boots and shoes help prevent strains, blisters and moisture in the feet.
Some good and recommended top backpacking boots include:
Vasque St. Elias GTX Hiking Boots – Men's regularly $189.00 on sale $129.99
Vasque St. Elias GTX hiking backpacking Boots are light and built to withstand rough terrain. Made with GORE-TEX® waterproof liners that allow your feet to breathe, they offer solid support and stability to protect your feet on sharp and rugged trails.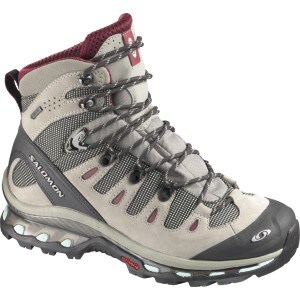 Salomon Quest 4D – $229.95
Salomon Quest 4D GTX Hiking backpacking Boots are known for breathability, lightweight and comfort. Rubber toe caps protect your toes from bumps while on the trail, while removable footbeds help in absorbing the shock of impact especially downhill.
Asolo TPS 520 GV Hiking backpacking Boots are made with full grain leather providing waterproof protection for your feet. They offer enhanced stability and support with padded ankle collars.
Keen Gypsum Mid Waterproof Hiking Boot – Women's regularly $139.95 on sale $96.95
Keen Gypsum Waterproof Hiking backpacking Boots are known for their durability, flexibility and comfort on long day hikes. These shoes come with external heel stabilizers to support the feet on impact and absorb any shock that may result in an ankle twists.
Merrell Phaser Peak Hiking Boots – Men's $160.00
Merrell Phaser Peak Hiking backpacking Boots offer amazing comfort like all their flexible shoes. Waterproof, rugged and durable, they offer sturdy support to heels and ankles. Another great one for long trails and multi day walks.
Other Extras you may need to consider when buying your backpacking boots are:
So if you plan on backpacking or hiking for few days, do yourself a favor and protect your feet and ankles by getting the right backpacking boots or shoes.
Salomon
Salomon Men's Discovery Gore-TEX Backpacking Boots - Brown (8.5)
Don't keep it to yourself, Share if you Like