Ghillie Suit
A ghillie Suit is a camouflage kind of clothing that employs threads and leaves to change the outlook of a person.  The purpose of the ghillie is a complete camouflage. Worn to conceal oneself from the environment, especially from enemies. Since human beings like animals identify things through shapes, the ghillie suit's foliage blending helps conceal its wearer.
The ghillie suit is widely used as Military Clothing
during undercover operations. However, hunters use it to camouflage themselves from their prey while hunting. Of course it all depends on the game and activity. The more dangerous the activity, the more camouflage is necessary. Some activities like paintball use the ghillie suit because of the mess of the game.  Choosing a camouflage depends on your activity. When choosing a ghillie suit, look for a Bow Hunter Suit
if you plan to go bowhunting. It is designed not to interfere with the bowstring.
Some ghillies come in sets of two pieces. You can find an affordable ghillie suit
around $99. The better the quality, the less breaking of threads and leaves. You may choose to opt in for the Pants
only or possibly just the jacket, or maybe a poncho to keep your legs free. You will also notice the fabric differences of a ghillie suit. Go for the synthetic threads if you plan an all day activity, as it is lighter in weight than a jute made one. In addition, synthetic suits are mostly washable and waterproof.
Hunting Clothing at Basspro.com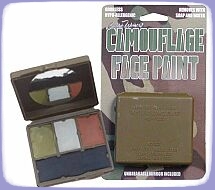 On a final note, if you decide to put on a ghillie suit, make sure your other gear matches. Backpack covers, face veils, Camo Face Paint,
gloves will complete your entire camouflage. Don't forget about military clothing or you may just buy a kit and make your own ghillie suit.
GUIDE GEAR
Guide Gear Men's 5-Piece Full Body Ghillie Suit
Don't keep it to yourself, Share if you Like