Merrell Moab
Merrell Moab hiking boots are one of the best trail shoes available for your summer or winter activities. When you are hiking you want something that holds your foot in place yet leaving you feeling comfortable. Merrell Moab hiking boots are available for any season. For winter and snow time look for the waterproof shoes or mid boots. For summer days, see the breathable ventilator mesh shoes or mid boots.

Merrell Moab boots
are made with Dura leather and nylon ventilator mesh uppers. This means breathability, flexibility and support for long hiking trips. The better your feet feel, the further you will want to go. In addition, all Merrell Moab shoes have a mesh padded tongue to protect your feet against lace pressure. This leaves your feet rested and relaxed allowing the blood to flow freely.
Merrell Moab Ventilator Hiking Shoe
has nylon mesh linings to absorb and disperse moisture. While the waterproof shoe offers breathability and complete waterproof protection. Pick a shoe that matches your hiking season activity. When it comes to comfort, Merrell Moab use a Q-Form midsole design to fit to your foot. The added EVA midsoles cushioning also give you extra support for an all-day wear.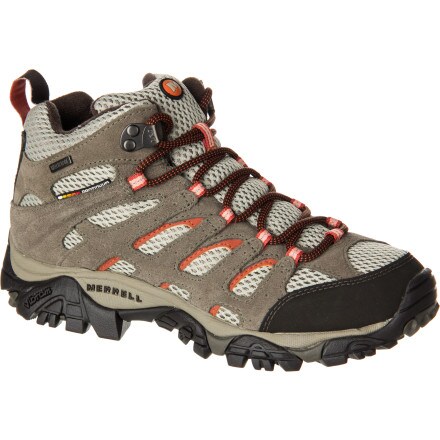 The Merrell Moab shoes use Vibram Multi-Sport outsoles. This gives you additional braking power on wet and dry surfaces. Again balance and support come much in play here. Merrell Moab shoes have air-cushioned heels for extra shock absorption while at the same time stabilizing your foot. This means less probability for ankle sprains and less strain on your foot.
For any hiking experience, be it summer or winter, the Merrell Moab hiking boots are among the most comfortable, durable and efficient. You may prefer shoes to boots. The Moab selection is available for kids, women and men, in shoes, boots or GoreTex.
Specs:
Dura leather/nylon ventilator mesh uppers
Mesh padded tongue
Nylon mesh linings
Q-Form— alignment system
EVA midsoles cushioning and support for all-day wear
Air Cushion heel
Vibram Multi-Sport outsoles
Merrell
Merrell Men's Moab FST Waterproof Low Hikers - Black (11)
Don't keep it to yourself, Share if you Like